Self Storage Knowsley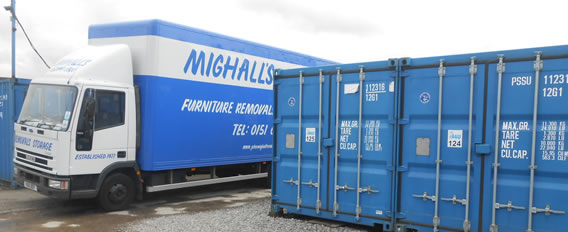 STORE
4U
understand there are times in life when you need to store your home contents for a temporary period of time. Maybe you are stuck in a chain, or need to vacate your home at short notice before you've found a suitable property? Or maybe you're going abroad for a while and don't want the expense of paying your rent or mortgage just to store your possessions! Whatever your reasons, we can help. Ask our friendly staff about short term flexible space hire in Knowsley. We can offer bespoke rooms to accommodate household contents - anything from a 5 bedroom house to a few boxes
Self storage units at
STORE
4U
are the ideal place to keep commercial stock, or as a base for tradesmen to store essential tools and equipment. So whether you are a small market trader with stock that needs securing between trading days, or a painter and decorator with just too much stuff to carry around in your van all the time, renting a self storage unit is a cost effective investment for your business. All of our units are at ground level with access directly to the doors by van or HGV. With CCTV and barrier controlled entry we offer the most secure self storage site in Merseyside.
We currently have 25 individual self-store container units available to rent in our on-site indoor storage facility. Access to our indoor facility is via a secure entry which is locked overnight. For even more security, we also have CCTV installed to keep a close eye on your storage space outside of office hours. Each individual unit has two inbuilt locks with separate keys for added peace of mind! To make sure you maximise your space, we can offer shelving inside your unit and boxes to help keep your space tidy. Our affordable rates makes us the top choice in the local area for indoor storage!
We offer Merseysides best value archive storage from just a few boxes to a whole archive. If you are feeling over run by old paperwork it could be time to move your documents off site and take your business forward by converting the space gained into a productive working space.
STORE
4U
offers low cost rates for high quality self storage units that maintain a secure, clean, dry environment to give you peace of mind your documents are safe with us.
STORE
4U
offers unbeatable rates for students needing to vacate their accommodation for the holidays. It can be cheaper to place your belongings in SELF STORAGE for a few weeks than have them transported backwards and forwards, especially if you are an overseas student. And certainly less hassle! Choosing SFU means you only pay for the space you need, and we can collect too

Contact us today at STORE4U on 0151 546 4900. You can be sure of a friendly and helpful response from any of the team and remember - we will not be beaten on price!